Golfersskin Sunscreen – Made by Golfers for the Golfer
Backed by a team of serious international athletes, Golfersskin is the ultra-performance sunscreen designed and specially formulated to meet the needs of golfers.
Offering total UVA/UVB broad spectrum protection from the elements and adhering to the highest sun care standards in the world, it's the perfect defence for those who spend all day in the sun for a sport they love.
Most importantly, its non-greasy, sweat proof formula won't run into your eyes or interfere with your grip, so there's no danger of you messing up that all important shot.
Paraben-free, PABA-free, and nanoparticle-free, Golfersskin also powerfully nourishes, moisturises and hydrates your skin with a winning combination of Aloe Vera and world-renowned UMF 18 Manuka Honey.
When you're out on the course, Golfersskin has you covered.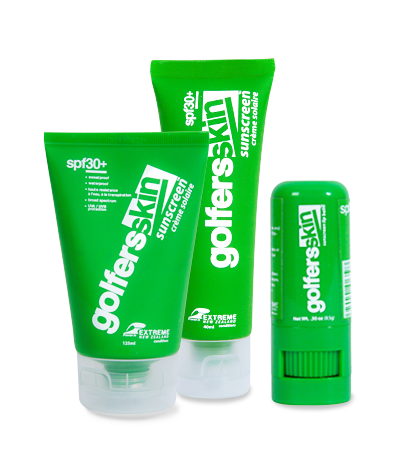 Highly Water Resistant

Non-Greasy PBA Free

Contains Aloe Vera

SPF 30+ UVA/UVB

Sweat Resistant

NZ Manuka Honey
"We embraced Golfersskin Sunscreen as a new product in 2012. Our staff and customers alike have responded very positively to a sunscreen tailored to their needs as golfers. The company has a strong brand, an excellent product and fantastic sell-through – it is our best seller in the golf shop, and the education that they've done with the staff and our customers has been very effective." – Ken Morton Jr – Director of Retailing and Marketing at Haggin Oaks Golf Complex, Sacramento, California