Protect your skin with Golfersskin
Golfersskin comes in a range of easy to use bottles with pumps, meaning that the suncream is quick and easy to apply. The easy to apply formula is non-sticky, non-greasy, light and long lasting.
Perfect for golfers!: Golfersskin won't run into your eyes, it absorbs quickly so it won't affect your grip, and it lasts for hours.
High security: Golfersskin offers SPF 30+ broad spectrum protection, with protection against UVA and UVB rays.
Highly sweat resistant.
Nasties free: no parabens, no paba, gluten free, anti-oxidant, non-allergenic.
Kind to skin: safe for all skin types, with healing and soothing aloe vera, manuka honey umf18+.
Bunny friendly: tested on golfers, not pets.
Golfersskin is made and manufactured by Seabase, who have over 35 years experience in the sports and leisure industry.
Safety & Testing
Golfersskin has been specifically formulated to meet extremely high standards for sunscreens and UVA/UVB protection in Australia and New Zealand. These standards are currently the highest in the world. Golfersskin has been tested by an independent laboratory in Australia and has a good UVF Factor, and is sweat and water resistant.
The Unique Ingredient Combination within our formula provides many skin care benefits to the little ones in addition to serious sun protection.
At the beginning of January 2017, Skinalive who is the parent company of Golfersskin, was awarded the Melanoma International Foundation Seal of Approval. We have been awarded this for our outstanding product and promotion of sun safe behaviours in accordance with the Melanoma International Foundation Seal Mission Statement.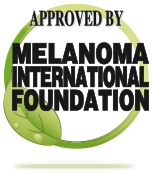 Manuka Honey: New Zealand Grade UMF 18+
This uniquely New Zealand healer has extraordinary skin benefits – hydrating, moisturising, nourishing, healing, rejuvenating and protecting. New Zealand Grade Manuka Honey is scientifically and medically proven to:
Accelerate skin healing.
Remove harmful bacteria and sterilise infections.
Stimulate new healthy skin growth.
Lower incidence of disfiguring scars including acne scars.
Offer strong anti-inflammatory properties.
Offer strong anti-oxidant support to help fight free radical damage
Jojoba Oil
Jojoba Oil boasts almost all of the vitamins and minerals essential for a healthy skin: vitamin E, B – complex, copper, zinc, selenium, iodine, and chromium. Jojoba Oil has long been used in ancient medicine to treat over exposure to the sun and heat rash and will reduce flaking and peeling and the anti-inflammatory properties of the oil work to reduce dryness and skin irritations.
Vitamin E
Vitamin E is one of the primary anti-oxidants used in Golfersskin. This combined with UVA/UVB Broad Spectrum sunscreen in Golfersskin assists in preserving the skin's barrier function which helps to maintain over all skin health.
Vitamin A
Vitamin A is a great anti-aging nutrient. When combined with UVA/UVB Broad Spectrum in Golfersskin sunscreen your skin re builds and rejuvenates – keeping lines, wrinkles, dull skin and other anti ageing symptoms at bay.
Aloe Vera
Aloe Vera is renowned for its many medicinal benefits. Combined with UVA/UVB Broad Spectrum sunscreen in Golfersskin it helps to increase the strength and synthesis of the skin tissue making it a vital ingredient in Golfersskin sunscreen.